From Parents
"My daughter Rebecca returned to Laurie Spigel's literature class for a second year. She also joined Laurie's improv class after not having previous interest in doing improv. We drive over an hour to get to Laurie and willingly do this for Rebecca's eager enthusiasm. This response to time with Laurie and the other students tells me Laurie is a great educator. Thank you Laurie for another great year. "
Nita S.
"Thank you for all your work, which literally changed our children's lives. The art history, the improv, the playwrighting, the short stories... We all see how much Adina grew over these past two years in both creativity and maturity, and we truly believe your classes played a big role in that. And for Eugene, you have just opened a new word of creativity and communication. His ability to express himself and his self-confidence improved from all but nonexistent to quite impressive. We are so glad we met you and our children lucked out to be able to learn from you – through both your lessons and your unique personality"
Alla and Valery
"Why was Laurie's Lit Club So Important? I'll tell you…
"One of the best decisions I've ever made as a homeschooling parent was to allow my son to be a part of Laurie Block Spigel's lit club. Under Laurie's direction, my son embarked on a rewarding intellectual adventure. The books covered in the club were among the most challenging and engaging literary works you could think of; and the corresponding discussions that followed were always characterized by great depth and nuance. In fact, with each title, I watched as my son's confidence with new literary works (as well as new narratives) grew exponentially. This was due to in large part to the fact that Laurie's unbridled enthusiasm for literature cultivates a love for reading, literary discussion, and intellectual exercise. Furthermore, as my son has told me (and as I've witnessed up-close), his growth in Laurie's lit club was also the result of the "tone and atmosphere" that Laurie established for the club. Indeed, Laurie made everyone in the club feel safe to share their ideas and opinions with honesty. Thus, in short, my son and I have found Laurie's literary club to be absolutely one of the most rewarding and amazing experiences of his educational career."
Amir "Sa'id" Sa'id
"Laurie is a teacher's teacher…
Some people are born to do what they do.
Laurie embodies everything you want in a teacher, absolute respect and care for her students and a passion for what she does. Her enthusiasm is infectious and she knows how to engage a child and take them on a learning journey, and have FUN doing it. Our son Oscar has been working with Laurie now for nearly six months ... and she has made a very sizable impact on his education and his well-being. Her classes and one-on-one sessions have been stimulating, fun, and very productive."

Deborra-lee and Hugh
"Kristen enjoyed both of your classes. It gave her the opportunity to explore all aspects of playwrighting from writing and reading through acting. It was a unique way of learning to express their ideas."

Eileen
"Laurie's classes are challenging, engaging, and fun for kids. My daughter loves the class discussions and the connections between times, places, people, and world events that Laurie is so talented at illuminating."

Jennifer Dees
"Laurie's boundless enthusiasm, inspiration and encouragement transformed my very reluctant writer into a passionate, committed and yes, even prolific writer. Her respect for each child's imagination created a safe environment for the students to express themselves freely and without judgement. Another wonderful bonus from her class has been the close friendships that developed among the teens."

Joanna Lodin (Joe-13, Christopher-11, P.J.-6.5)
"There are so many wonderful reasons I love sending Lynette to Laurie's courses that I have to list them. So here they are:
Lynette always comes home with something wonderful to show for the work she did in Laurie's class (a boardgame, a handmade book of poetry).
Laurie inspires the children to write prolifically, which I myself find a very difficult task.
The result of No. 2 is that the children feel great because they see their creation and know they can do it.
Laurie uses the group setting in very positive ways, for example: as a place for the children to show their work and be proud of themselves, to create a positive (not competitive) atmosphere in which the children work together, help each other and have fun, and she understands the importance of social interaction in the learning experience.
Laurie inspires me to replicate the kind of learning experience she demonstrates in her classes. As a result, I feel our homeschooling experience has been enriched by learning from her example.
Thanks, Laurie!"

Joanna Andreesen
"When Maggie signed up for your playwriting course, and you informed us that she would write a play and also act in one, we didn't believe you. She did her work privately, so when the performances came, Agnes and I were unprepared to discover what Maggie had achieved. She had no prior experience writing plays. She had always been shy and inaudible speaking onstage. We still don't know how you did it!"

Joe Horowitz
"Our family first came in contact with Laurie five years ago when we decided to homeschool our two girls. She was referred to us by another homeschooler as 'someone who might be able to help' us with all the paperwork, reporting, fear...etc that most homeschoolers encounter when they start out. Well, what we received from Laurie, was invaluable. She guided us through the process as calmly as only one doing this for 15 years can do, relieved our misgivings, allayed our fears, and basically put us on the right track for everything tangible. Her yearly help with curriculum is indispensable for me even now, after having had some experience. She took the time to not only understand my children's needs and learning styles, but also to understand our needs as a family and how our teaching styles would best serve us and our children.
We have fully taken advantage of the classes she offers and my husband and I are often left feeling that 'we'd like to see a class like that for adults....'

Our oldest daughter began taking Laurie's Poetry/English and Art History classes in the 6th grade after having had very negative experience in public school. Just a few weeks into Laurie's classes, the child who had been labeled 'learning impaired' was coming home exuberant, eager to do more and to write something or make something wonderful for her next class. I am convinced that Laurie's Art History course kindled her artistic fire and got her accepted into La Guardia HS in both the Fine Arts studio as well as the Acting studio. She now understands when she isn't getting what she needs from her instructors (and the fact that sometimes, it IS the instructor) and knows how to get the help she needs.

There is a five-year difference between our two eldest girls and they have both taken Laurie's classes at different times. Every product of their classes was different, even though the subject matter may have been the same. There is never the fear that they've gone over this before...because they grow and incorporate that growth into their class projects. Our younger daughter wrote a short one-act play with Laurie's help and now carries around a pen and notepad to write down ideas, thoughts, etc... If she has a question or comes up with a particularly interesting project, she feels comfortable border="0"picking up the phone and calling Laurie, who has never failed to give her as much time as she needs to answer her questions or give her ideas on where to go next, treating her with as much respect as she would any adult who happened to call.

In short, more than the academic benefits of classes taught by someone who not only knows the subject matter, but takes the time to make it interesting to the age group she is teaching, my children walked away with a love of learning and a sense of adventure regarding their education. We were reluctant homeschoolers at first, cautious and not sure how long it would last. With Laurie's help, we learned to embrace and enjoy the task at hand and now would not consider raising our family any other way. Coming into contact with Laurie has been the single most empowering event that could have happened to us as a new homeschooling family and being empowered to do great things, we believe, is the greatest gift we give as homeschooling parents."

Zuleyma, mother of three daughters
"I want to thank you for running such a wonderful improv class. Words can't express how a mom feels when she knows that her child is having fun and learning in a safe and supportive environment. I've actually seen positive developmental changes in Joshua this semester and I'd have to credit your workshop with helping him to make this leap.

"I hope you will continue to work with homeschoolers and offer the improv class again. It seems like you really enjoy your work! I think that's why the kids have so much fun.

"Thank you very much for everything."
– Sharon Rynn (homeschooling parent)
From Students
Laurie Spigel

Love of laughter
Amusing
Understanding
Respectable
I like her
Entertaining

Smart
Patient
Idea giver
Great
Excited
Loving


Kristen
"Literary club was great! Over the past month, I was preparing for a big role, which is why I couldn't attend. Although I was happy for this opportunity, I must admit that I was saddened to miss out on the last two sessions of Literary Club.


Literary Club has been, and I know it will continue to be, special to me. I loved all of our discussions, and I learned a lot. It was a great overall experience. I certainly look forward to attending Lit Club when we start up in the fall."

Amir (age 13)
"To Laurie!
She teaches us poetry, fairytales, research and improv.


She is
wonderful, creative, Happy.


She is Laurie.
You know, the fun one.
Her ideas are the best there is.
She is our favorite.
She is ours, just ours.
The crafty one, the smart one,
The one that teaches us how to make a board game,
how to use props,
how to make a limerick with only five lines,
The only one that knows how to call to fairies & elves,
A gem, the very special one,
Wonderful, nice, sweet, fun,enthusiastic –
Laurie.
Thank you.

Emma Wong
"Hi Laurie!
I wanted to share with you what I liked best about interview class. On Friday afternoon, after the last class, I was looking at the interview booklet. All of the interviews were very interesting. But the one I liked the most was the one with Yadi. I liked it because I learned about her. I learned about another student in my class. It's just so different.

THANK YOU LAURIE. YOU ARE THE BEST TEACHER EVER!!!!!!!!!!!!!!!!!!!!!!!!"


Hannah Bander
"Dear Laurie,

From the first time we met in 2010, you've been a truly influential person in my life. Your enthusiasm, positivity and encouragement continually inspire and motivate me to learn. I feel sincerely fortunate to have you as my teacher. Over the two years I've been homeschooling, your helpfulness, adaptability, support and responsiveness have helped me grow into a more confident and aspiring student. My reading and writing have improved dramatically. You've helped me become interested and enthusiastic about learning and I always enjoy doing English with you. I am truly thankful for all the time you spend skyping, emailing and supporting Maya and me in our homeschooling studies. You are a very special, unique and inspiring educator. Thank you for your continuous guidance and support, and for your love for teaching and learning!

Love,"
– Sarah (age 16, Tasmania, June 2012)
"Dear Laurie,

"From the very first day I met you I thought you were something special. Your love for learning, and the subject of English in particular, your eagerness to be helpful and your positive energy is very infectious. I don't imagine that we'd be homeschooling if it wasn't for you. Meeting you at your home in 2010 was such an eyeopening, incredible experience for me, one that changed my life forever. It was because of you that I believed that homeschooling was possible, and a good, beneficial thing to do. It was because of you I believed we could make it work for us. During our journey of education at home your moral support and shining example, your enthusiasm, positive feedback, flexibility and willingness to help has enabled us to continue to homeschool and has helped us to have confidence in what we're doing.

"You have helped me so much in becoming more enthusiastic about English. My reading, writing, researching, and attitude towards English has dramatically changed since having you as my teacher. I feel extraordinarily fortunate to have met someone like you and to have someone like you as my teacher! I truly appreciate all the time and effort you spend with Sarah and me, skyping, going over work, thinking about the questions we ask and answering them. You are a unique and wonderful educator and I hope that in the future there will be many more doing the kind of work you do!

"Thank you for your enthusiasm and love for learning!"
– Maya Jaros (age 16, Tasmania, June 2012)
"Laurie's class is so much fun! I really enjoyed it! My favorite games were sound ball, the story game and what are you doing. I loved your class! I like how we were free to be silly and learn at the same time!"
– Joshua Rynn (homeschooler, age 11)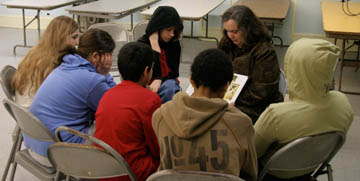 "I like the way Laurie introduced a different poem to us every week. She asked us to write a few poems of that type. That helped me write poetry because I learned different styles of poetry.

Making our own poetry book was pretty cool too."

Lynette Andreesen (age 10)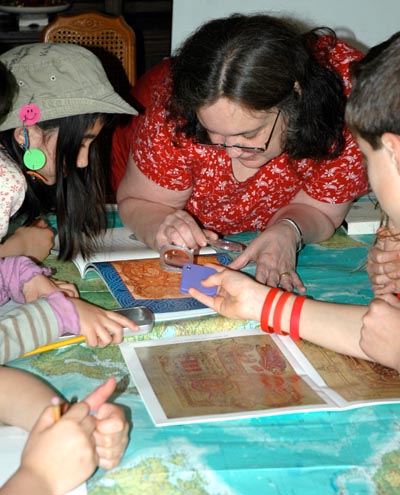 "Thank you SOOOOO MUCH LAURIE!
Laurie, you are the most terrific teacher ever! You are a kind and compassionate person. And you don't just teach, you make everything fun, interesting, and cool! I am really grateful. Have a super fantastical summer. I will definitely miss you. Thanks for helping me and showing me things I can use for life. Improv was fun and exciting, the interview went deep and it showed me how to talk to people, the memoir class helped me remember special moments in my life. Playwriting! Hey, I didn't know I could even write a play! It turned out to be very successful. The show was fun! If it weren't for you, I would have not had the exciting experience of being in your classes! Thank you so much! My family sends bushels of thanks."

Oribel Ledesma & the Ledesma Family
"College has been so crazy! I am so glad to finally graduate this month. I am actually moving to New Orleans tomorrow to be an Elementary Special Education teacher. Thank you for being a wonderful teacher and influencing me to make this big step in my life. I hope I can inspire my students the way you inspired me. "
– Rebecca Sampayo (homeschooled student, college graduate, and special education teacher)
---
Read Rebecca's college essay
"I met Laurie last year when watching one of her writing classes. We totally clicked, and from that moment on, we have been not only in a terrific teacher-student relationship, but also good friends. As a student in Laurie's classes, I can say without exaggeration that they are the most enriching, fun, and educational classes ever, and they have been such a great experience.

"I don't know where to begin! She brings out the best in every one of her students. She makes her games like education, and her education like games. Nobody is like her! Laurie makes her students feel very special. I think she revolutionized education, and that all teachers should be like her. I have had so many wonderful moments with her, whether it was writing stories about faeries, or learning improv games in improv class, or going to the Tim Burton exhibit at MoMA before the rest of the class arrived for the Art History field trip, or maybe even trying to pronounce the word in Adina Fradkov's awesome play in our playwriting class via floccinaucinihilipilification. Whew.

"Laurie, thank you so much for all the wonderful classes this year. You are definately a one-of-a-kind teacher."

Sydney Harris, 13